Beat Bullying: The Proud2Bme Anti-Bullying Week Guide
We asked, "Have you ever been bullied because of your appearance?" Nearly ninety percent of you said YES. It's time to change that. Have ideas? Want inspiration? Check out our guide.
It's Anti-Bullying Week, an initiative launched by UK organization Beat Bullying. There's a lot of bad news when it comes to bullying. In a string of recent bullying-related suicides, 10-year-old Ashlynn Conner is the latest young person to take her own life. Her mother reports that she was being called "fat" and "ugly" by her classmates. A new study reveals that bullying is linked to 65% of eating disorders. But there's good news, too. Just look at these young people who are taking a stand and encouraging others to do the same.
Proud2Bme contributor Emily-Anne Rigal founded WeStopHate after enduring years of bullying. Now she's getting shout outs from Lady Gaga. Take that, bullies. Find out more about her organization and read Emily-Anne's tips for being a successful teen activist.
Lauren Parsekian and Molly Thompson were also affected by bullying, and they wanted to start a larger conversation about why girls bully other girls. They set out on a cross-country road trip (bringing their moms along for the ride) to film their documentary, Finding Kind. Their website is filled with warm and fuzzy kindness vibes. Send a Kind Card, Start a Kind Club, and sign your name to T.A.P. (Truth, Apology, Pledge).
Secret's "Mean Stinks" Campaign aims to educate girls about the effects of bullying and what we can all do to start a movement of nice. Glee's Amber Riley shares her tips on how to make a change for the better.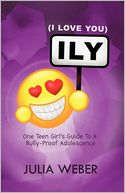 14-year-old Julia Weber decided to turn her experience with bullying into a book. ILY (I Love You): One Teen Girl's Guide to a Bully-Proof Adolescence (on Facebook) is based on Julia's own struggles with low self-esteem and bullying. She writes, "OK - so picture this. You're at home in front of the mirror. Telling yourself exactly what you think of yourself. Too fat. Too pasty...You don't even think of paying yourself one single compliment. Are you your own worst enemy? Enter the bully - she can pick you in a moment. She knows she can take a shot at you and you'll fall down in a heap, and you know why? Because she's actually on your side, she's picking you to pieces in the same way that you treat yourself."
Have you dealt with bullying? What advice would you give to help others? How will YOU be a leader who promotes kindness and respect?
Info